Cost of Living Resources
Support available to individuals and organisations to assist in alleviating the current cost of living crisis
---
In response to the cost of living crisis, the Government has launched a support package targeted at those most vulnerable households.
The support available includes:
£15 billion energy bill rebate package
£650 Cost of Living payment for those on benefits
£300 Pensioner Cost of Living Payment
£150 Disability Cost of Living Payment
The Warm Homes Discount
Winter Fuel Payments
Cold Weather Payments
---
Essex County Council 
Essex County Council may be able to help individuals to pay for things like:
energy and water bills;
food;
essential items such as for example clothes or household items such as cookers, etc.
This help is known as 'welfare assistance' or the 'Household Support Fund'.
Basildon Borough Council 
---
Warm Hubs in the borough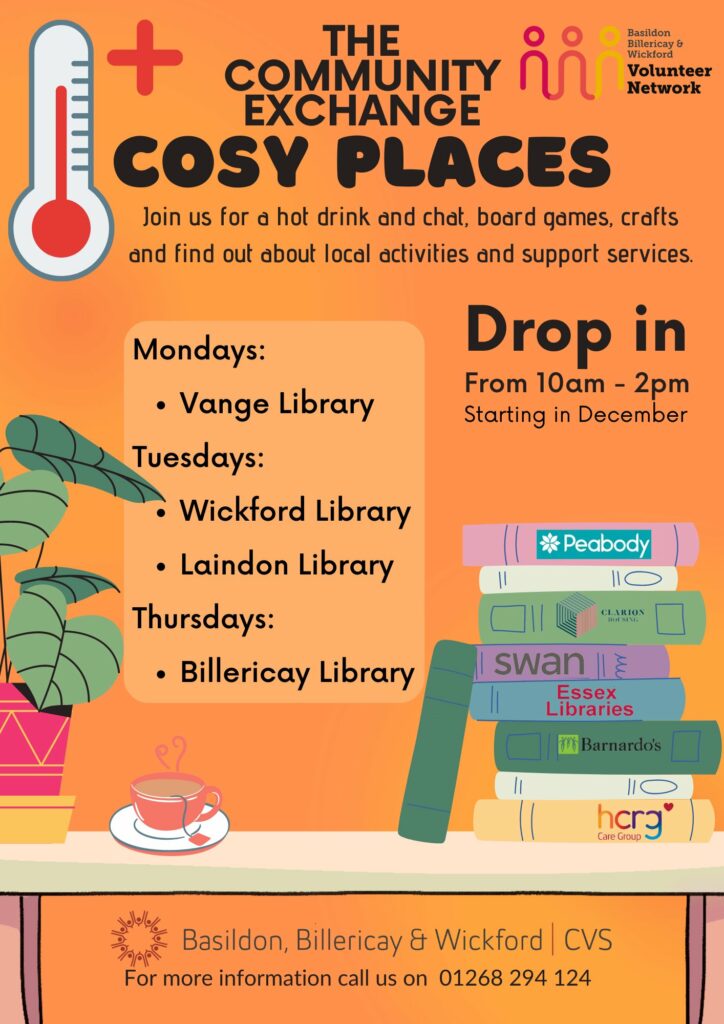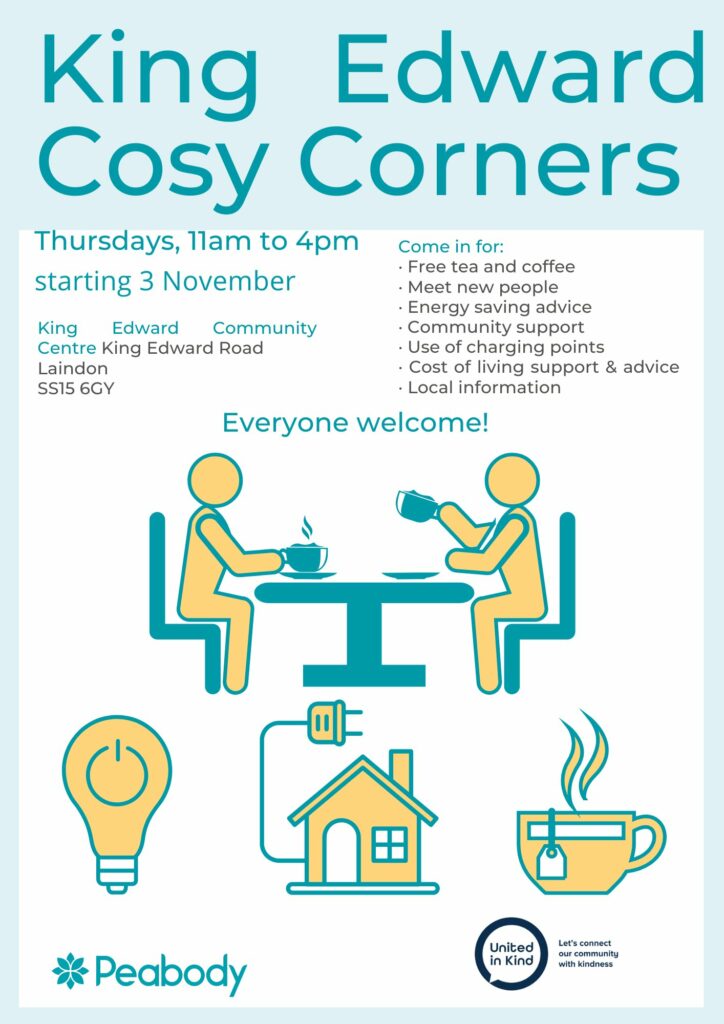 Owl and pussycat pub Clay Hill Road Basildon  – hot drinks on them and stay as long as you like during our opening hours
Warm Spaces provided in the Wickford area:
Mondays – Coffee Morning at Christ Church from 9.30 am – 12 noon
Tuesdays – Meet & Make (Craft Group) at St Andrew's from 2.00 – 4.00 pm or Wickford Library, Unit 8, The Willows, 10am – 2pm Thursdays – Fellowship Group on 3rd Thursday in the month (except for December when it is the 2nd Thursday) at Christ Church from 2.00 – 4.00 pm
Saturdays – Coffee Morning at St Andrew's from 9.00 am to 12 noon and Coffee Morning at St Catherine's on the 1st Saturday in the month from 9.30 am – 12.30 pm.
---
Applications can be submitted at any time
The Artemis Charitable Foundation makes donations to charities operating in the UK and internationally primarily in four key areas; health; education; poverty; and the environment.
---
Applications can be submitted at any time
The Trust funds projects concerned with the relief of poverty or distress, particularly those relating to children, and the advancement of the evangelical Christian faith, both at home and abroad. The Beatrice Laing Trust offers grants to UK registered charities working throughout the UK, in developing countries and overseas. Grants are generally awarded on a one-off basis for capital purposes such as the purchase or construction of new premises, building extension, redevelopment or refurbishment, or the purchase of equipment and vehicles.
---
Applications can be submitted at any time
The Edith Murphy Foundation was established in memory of Hughie Murphy. Its purpose is to support other organisations (predominantly, but not exclusively, other registered charities) that: carry out research; support individuals who by reason of their age, youth, infirmity, disablement, poverty or social and economic circumstances are suffering hardship, distress or are otherwise in need; relieve the suffering and care for unwanted animals. The value of grants made is normally between £500 and £5,000 although larger grants are made in some circumstances. Since its inception in 1993 the charity has supported over 650 organisations with grants of around £17.5 million enabling these groups to carry out ground breaking research as well as providing much needed support to those in need of care.
---
Groundwork – One Stop Community Partnership Programme 
Applications can be made at any time and applicants are encouraged to visit their local One Stop store for more information
Groundwork is working with One Stop Stores Ltd to administer the One Stop Community Partnership programme. Successful applicants will receive an initial grant of up to £1,000 and begin a partnership with their local One Stop store. This programme is designed to support community groups or organisations operating within two miles of a One Stop store and which are tackling food poverty; supporting the vulnerable; supporting the elderly; supporting low-income families; and running youth sports teams
---
Applications can be submitted at any time
Localgiving has teamed up with the Postcode Community Trust to provide the Magic Little Grants programme. The fund provides small charities and community groups with grants of £500 for projects that address a range of community, social, environmental and health issues including preventing or reducing the impact of poverty.
---
Applications can be submitted at any time
Persimmon Homes Charity Foundation is providing grant funding of up to £1000 to registered charities, clubs, schools and other organisations which have already raised vital funds themselves towards projects to enhance their local community. The total available each month to support local good causes is £60,000. The type of projects supported to date have included support for foodbanks; projects within schools; and sports projects; etc.
---
SODEXHO Foundation Stop Hunger Campaign 
Applications can be submitted at any time
Stop Hunger is a worldwide Sodexo initiative active in more than 40 countries. Through the initiative, the Sodexo Foundation donate time, skills and money to tackle hunger, support good nutrition and promote life skills in local communities. In the UK and Ireland the Stop Hunger Foundation is a grant giving organisation and its vision is to work with very best charities that exist to tackle hunger and malnutrition; promote healthy lifestyles; and develop life skills such as cooking. Previous grant awards have ranged between £1,500 and £120,000, however first time applicants can only apply for a maximum of £10,000. Organisations that have previously received funding include Fare Share who redistributes surplus food destined for landfill to local charities and community groups across the UK and Focus Ireland who support homeless people in Dublin by providing hot nutritious meals.
---
BBC Children in Need Emergency Essentials Programme
All applications must be made by a registered referrer
BBC Children in Need Emergency Essentials Programme supports children and young people who are facing exceptionally difficult circumstances, and is delivered by Family Fund Business Services. The programme provides items that meet a child's most basic needs such as a bed to sleep in, a cooker to provide a hot meal and other items or services critical to a child's wellbeing.  Applications can be made at any time.
---
British Gas Energy Support Fund
The fund will remain open until all the money invested has been awarded
The Trust has launched a new energy support fund to help the most financially vulnerable British Gas customers who are struggling to pay their energy bills. This fund has been set up in response to the increasing cost of living and rising inflation, including Ofgem's most recent price cap increase. Through the fund eligible British Gas customers with fuel debt of £250 to £750 can apply for grants to help pay their energy bills over the coming months.
---
The OVO Energy Fund is a fund that helps people who've fallen behind with their energy payments to OVO. To qualify, individuals need to be in receipt of one of the following: Income Support, Job Seekers Allowance, Pension Credit, Employment and Support Allowance, or Universal Credit (but only if not working). In addition to qualify the energy debt on the energy account needs to be at least £150 and the annual household income is £16,190 or less.
---
Applications can be submitted at any time
The EDF Customer Support Fund awards grants to vulnerable customer households. It aims to provide customers with a fresh start and financial stability. It can help households stay out of fuel debt and better able to afford ongoing energy costs. The Fund also offers grants to buy essential energy efficient white goods such as cookers, refrigerators, or washing machines.
---
Friends of the Elderly – Grants for Older People 
Applications can be submitted at any time
Friends of the elderly provide support for older people affected by loneliness and grants for those living on a low income. Through the Grants for Older People programme they provide grants of up to £400 to older people who are of/over state pension age and have savings of less than £4,000. Funding is currently being provided through four schemes: Home Essentials to help with the cost of replacing everyday items, small home repairs and mobility adaptations; Digital Connection to help older people get online; Financial Support to help with unexpected bills; and Essential Living Costs including clothing, food, medicines and books. Applications must be made via a third-party Referral Agent such as charities, local authority and social services representatives
---
ABTA Lifeline
Support for current or former members of ABTA (or their families). Support includes emergency food voucher and access to financial and mental health support. More information here
---
Ambulance Staff Charity
Support for those who are working or have worked in an NHS or private ambulance service for at least 12 months struggling with their physical, mental or financial wellbeing. Applications also considered from dependents or student paramedics. More information here
---
Artists' General Benevolent Fund
Support for professional artists and their dependents who are unable to work due to accident, illness or older age. More information here
---
Author's Contingency Fund
Contingency funding for writers, illustrators, journalists etc. Grants of up to £2,000 are available. Some professional or geographical restrictions may apply as the funding for the grant has come from a variety of sources. More information here
---
BBC Children in Need Emergency Essentials
Support delivered via the Family Fund. Registered referrers can apply on behalf of children or families, for grants to support a child's most basic needs, such as a bed to sleep on or a hot meal. More information here
---
Book Trade Charity
Welfare grants for people who are working or have worked in the book trade for more than one year. More information here
---
Buttle UK – Chances for children
Grants of up to £2,000 for children and young people that have experienced a crisis that has recently had a significant and enduring impact on their social and emotional wellbeing and educational engagement. Help for children to access education, essential IT or household items for example. Applications from support workers. More information here
---
Cavell Nurses Trust
Supports nurses, midwives and healthcare assistants. Fund can help with short term financial emergencies, essential white goods, rent deposits and removal costs amongst other things. More information here
---
COSARAF Hardship Grants
Grants of up to £2,000 available for financial excluded individuals. Applications only accepted from charities, housing associations or schools acting on behalf of the family. Decisions within 8 weeks. More information here
---
Family Fund
Help for families with disabled children. If your child is under 17 and has a high level of additional support needs arising from a long term disability or disabling condition OR a serious or life-limiting illness you may be eligible to apply. More information here
---
Fashion and Textile Children's Trust
Support for parents or carers who have worked in the fashion or textile industry for at least one year and who are struggling financially. Support is for items for children not general household bills. More information here
---
Furniture Makers' Company
Welfare support for those with at least two years' service in the furniture industry, including self-employed. More information here
---
Grocery Aid
Support to current or former workers in the grocery or food wholesale sectors. One-off hardship grants. More information here
---
Just Finance Foundation
Useful information and resources on a range of financial support for individuals. More information here
---
Licence Trade Charity
Practical advice, emotional and financial support and short-term hardship grants for licensed tradespeople. More information here
---
Make A Difference Trust
Small pockets of financial assistance to those in theatre who have previously supported MAD initiatives, who are now experiencing unexpected financial hardship due to theatre closures. More information here
---
Musicians Union
Hardship funds up to £200 to support members of the MU. More information here
---
National Zakat Foundation
Support for Muslims living in the UK. Includes hardship relief; housing help; work and education. More information here
---
Rainy Day Trust
For those that have worked in the home improvement industry for at least 12 months and are on a comparatively low income. More information here
---
Retail Trust Financial Aid
Grants are available to retail workers and those in associated trades who are in need of financial assistance. More information here
---
Royal Society of Musicians of Great Britain
General relief fund for those working across the music profession whose lives have been affected by accident or illness. More information here
---
Smallwood Trust – Women's Resilience Fund
Grants and support are available for women on low incomes who have specific needs and are struggling to make ends meet or trying to overcome financial problems. Applicants must be in receipt of all eligible benefits to which you are entitled before making an application. More information here
---
Teaching Staff Trust
Financial support for individuals in education, including teachers, teaching assistants, nursery workers, caretakers and lunch supervisors for bills, household costs, travel or other essentials if you have worked in the education sector for at least five years. More information here
---
Theatre Helpline
A portal to various sources of information and help, including financial, available to those whose work in the theatre has been interrupted due to the Coronavirus crisis. More information here
---
Thomas Wall Trust
Support for adults living in the UK to undertake education and training that will increase their chances of employment. More information here
---
Turn2us
Government benefits calculator, more information here
---
Unison Financial Assistance
Support for Unison members experiencing financial difficulties, whether due to coronavirus or other circumstances. More information here
---
Articles and Resources 
https://charitydigital.org.uk/topics/cost-of-living-crisis-how-to-meet-service-demand-10542
https://charitydigital.org.uk/topics/how-charities-can-tackle-both-poverty-and-climate-change-10618
https://charitydigital.org.uk/topics/cost-of-living-rising-cyber-threats-10520
.Utility Aid –  free audit to receive help and advice with your organisation's procurement needs
Charity National Energy Action (NEA) have updated their advice documents to help organisations tackle the current energy crisis
---
Training / Networking opportunities 
Roundtable: Better Technology – Better Boards
18th January 2023
10:00am
ONLINE
Leading a charity through the cost-of-living-crisis.
#BeMoreDigital Conference 2023
9th March 2023
09:00
NOVOTEL LONDON WEST HOTEL
Join us for this hybrid conference on "overcoming the cost-of-living crisis"