Basildon, Billericay & Wickford Volunteer Network

Please register your interest in becoming a volunteer, or to request help in finding volunteers by visiting:
---

---
The BBW Volunteer Network Community Connection magazine
We started publishing this monthly magazine during the first lockdown with the aim of providing puzzles and useful local information to those shielding/isolating. Over time the publication has grown and is a celebration of our sector and a showcase of the great things going on in the community. We particularly like to share positive stories about the difference volunteers make to our community. If you would like your organisation / group / volunteers to be featured in a forthcoming edition for free, please get in touch.
We would welcome any articles, adverts, or volunteer spotlights from you. Please send any content here – please note that we require content to be submitted by the last week of the month (at the latest) to be included in the following month's edition.
Click here for previous editions of Community Connection publications.
---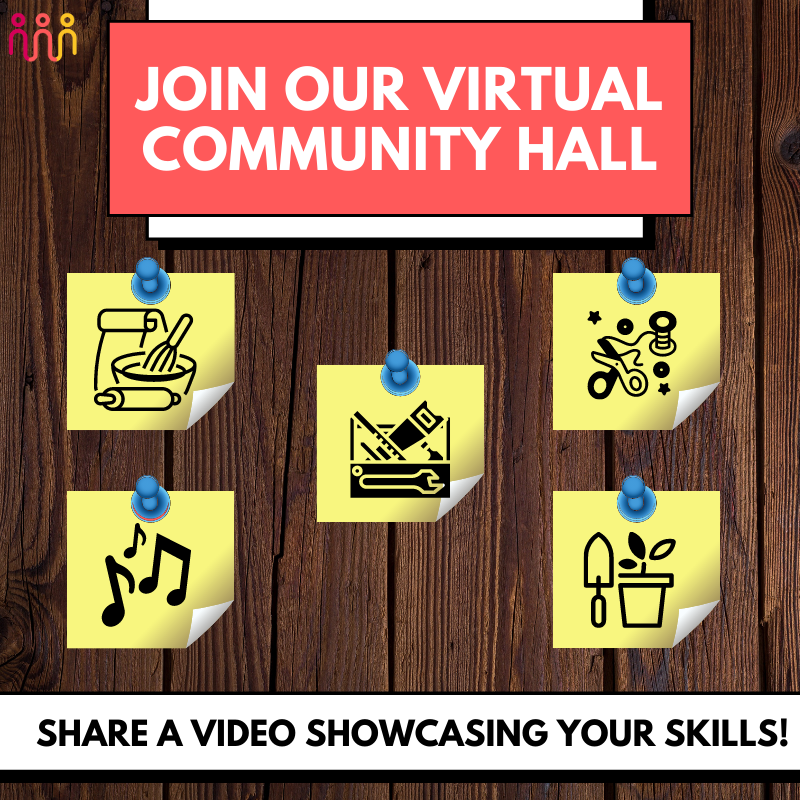 Community Exchange/Virtual Community Hall
Towards the end of last year we launched our 'Community Exchange' (Time Bank) portal –  This is where individuals can take part in informal volunteering, sharing skills with other community members or carrying out one off/ad hoc opportunities with the aim of creating a cycle of community support. You can register on the Exchange as an individual or as a group and add your own requests for help or offers of help. For every hour spent helping someone the member can receive a time credit to receive their own volunteer help if needed.
As part of our Community Exchange, we are going to be launching our 'Virtual Community Hall' this will be a space on the portal where the public can access videos that may be of interest/help to them. We are looking to include videos under the following topics ' Fitness & Exercise', 'Creative', 'Emotional Well-Being' 'Digital Support' we are encouraging members of the public to provide a video they make themselves to share a skill or hobby, and would also welcome content from yourselves, which would also provide the opportunity to highlight the services you offer. Here is an example video we made last year to demonstrate making an origami heart.
If you have any content you could like to provide please get in touch. You can see more information here
---
Covid-19 Volunteering
How can I help others during this time?
There are a number of ways you can help your local community during this time, a number of which can be done from the safety of your own home. See below for ideas:
---
Check on family, friends & neighbours
Do you know of any people around you who are vulnerable or isolated? If so it is worth checking in with them. They may appreciate a regular telephone call or email, or may require some assistance with shopping or collecting medication.
If you use social media, it is worth keeping an eye on the local community pages as you may find local community support groups looking for volunteers. You can also find such groups on the following website www.covidmutualaid.org
---
Staying Safe while Volunteering
With any of the above activity please make sure that you keep both yourself and the individual safe by following the government advice with regards to social distancing and hygiene. Keep any contact with others to a minimum, wear gloves if making any deliveries and maintain hand washing before and after activity. Additionally, where possible encourage cashless transactions for shopping.
The following short video gives some useful advice on how to stay safe while volunteering: https://www.youtube.com/watch?v=jemq78gSm_0&feature=youtu.be
The NCVO's blog 'Are Volunteers on Lockdown' also gives some useful advice on staying safe while volunteering https://blogs.ncvo.org.uk/2020/03/26/are-volunteers-on-lockdown/
Some of the supermarkets are introducing measures to help people to collect shopping for others more safely:
Asda Volunteer Shopping Card Scheme – https://cards.asda.com/the-volunteer-shopping-card
M&S we're all in this together e gift card – https://www.marksandspencer.com/all-in-this-together/p/p60282075
---
Donate to a local food bank
Local food banks are extremely stretched currently and would be grateful for any donations of essential items such as:
Tinned meat                                    Tinned fruit                     Rice
Tinned fish                                      Tinned tomatoes             Tinned vegetables
Pasta                                                 UHT milk                          Cereal
Jars of sauce                                    Soup/noodles                   Tea/coffee
Hygiene items (nappies, sanitary products, wipes, toilet roll, toothpaste etc.)
Basildon, Billericay & Wickford Food Banks Donation points:
Basildon Food Bank
Donation points:
Tesco Basildon Extra (SS13 3JU)
Tesco Mayflower Retail Park (Gardiners Link, SS14 3HZ)
Northlands Pavement, Pitsea Centre, SS13 3DU
Contact: [email protected] or 07424660862
Basildon Salvation Army
Donation point:
Sainsbury's (East Mayne Superstore, Cricketers Way)
For monetary donations online: https://www.justgiving.com/fundraising/basildon-the-salvation-army?fbclid=IwAR0880hJy_ihJ91XnAkelc1_a5fk312tIrjRueaJe7zjsoNqEpZKWLJZbZ8
Contact: [email protected]
Laindon Food Bank (temporary during Covid-19)
Donation point:
Kind Edward Community Centre, open Mon & Wed 3-6pm
Wickford Food Bank
The Salvation Army, Jersey Gardens, Wickford
Donations:
Tuesdays 9.30am to 12noon, by the red door in the car park at the back of the building accessed by Elm Road.
Thursdays (when Food Bank is open), park on yellow lines outside front of halls in Jersey Gardens (5 minutes parking is ok), come and find us serving in the car park and a volunteer will come to your car to receive the donation.
Co-op store, Wickford town centre
Contact: [email protected]
Billericay Food Bank
St John's Church, Outwood Common Road, Billericay
Open Tuesday and Thursday afternoons for donations between 2pm – 4pm
Donation points also at: Waitrose, Co-op & Sainsbury's
For monetary donations please email the contact below.
Contact: [email protected]
---
Make a donation to a charity
During this time many charities will be unable to carry out their usual fundraising activity, therefore now more than ever donations will be important to help them keep their services running. You could donate to a charity who offer a service that you or a family or friend may have benefited from in the past, a charity who carries out work that you feel is particularly important, or you may wish to donate to a charity who are working to support people during this time and need extra resource to be able to do so. The choice is yours!
---
Offer resources you may have
Do you have access to any resources that you could offer to help others, such as equipment/materials to make PPE equipment, any PPE of your own you could share or are you able to make some scrubs? You could look for campaigns on social media such as 'For the Love of Scrubs' (a Facebook page with information on making scrubs for hospitals)
Provide in Mid Essex are looking for volunteers to make scrubs for the NHS – https://docs.google.com/forms/d/e/1FAIpQLScLWzOSgph4bUsUnYR_ukHClRP3YLBUrR5Ykexap8rG9-UVJw/viewform
---
Online Volunteering
While we are being encouraged to stay at home, you may wish to take part in volunteer activity online. This could involve the following:
signing up to become a Dementia Friend (https://www.dementiafriends.org.uk/)
helping to spread awareness about Coronavirus scams
running free online classes or activities for the community
online befriending
---
Furloughed Employees and Volunteering
If you are an employee who has been furloughed you are able to carry out volunteering as long as it is not for your own organisation and is not organised by your employer otherwise the organisation may not claim on the coronavirus job retention scheme.
General information on the Coronavirus Job Retention Scheme – https://www.gov.uk/guidance/claim-for-wage-costs-through-the-coronavirus-job-retention-scheme
Information on volunteering for furloughed employees –https://www.thirdsector.co.uk/furloughed-workers-volunteer-not-own-organisations-government-says/volunteering/article/1678576
---
 Volunteering in the Community
If you wish to carry out volunteer work for an organisation during this time the following organisations are taking registrations:
---
Follow us on Facebook and Twitter to keep up to date with how you can help the local community
You can also visit our volunteer website where you can find a range of formal volunteer opportunities or take part in our Community Exchange programme.