Welcome to Basildon, Billericay & Wickford CVS
IMPORTANT
PLEASE READ 
COVID-19 Audit for Community Organisations
We are compiling an audit of our local organisations that can support a community effort to overcome and support the public during this Covid-19 crisis. We are experiencing a high demand and it is essential for us to come together. We are performing an audit to establish the resources we can all draw upon.
Please provide your response ASAP and share with as many organisations as possible.
We thank those that have already taken the time to complete the audit. Your information will help shape the help we provide.
---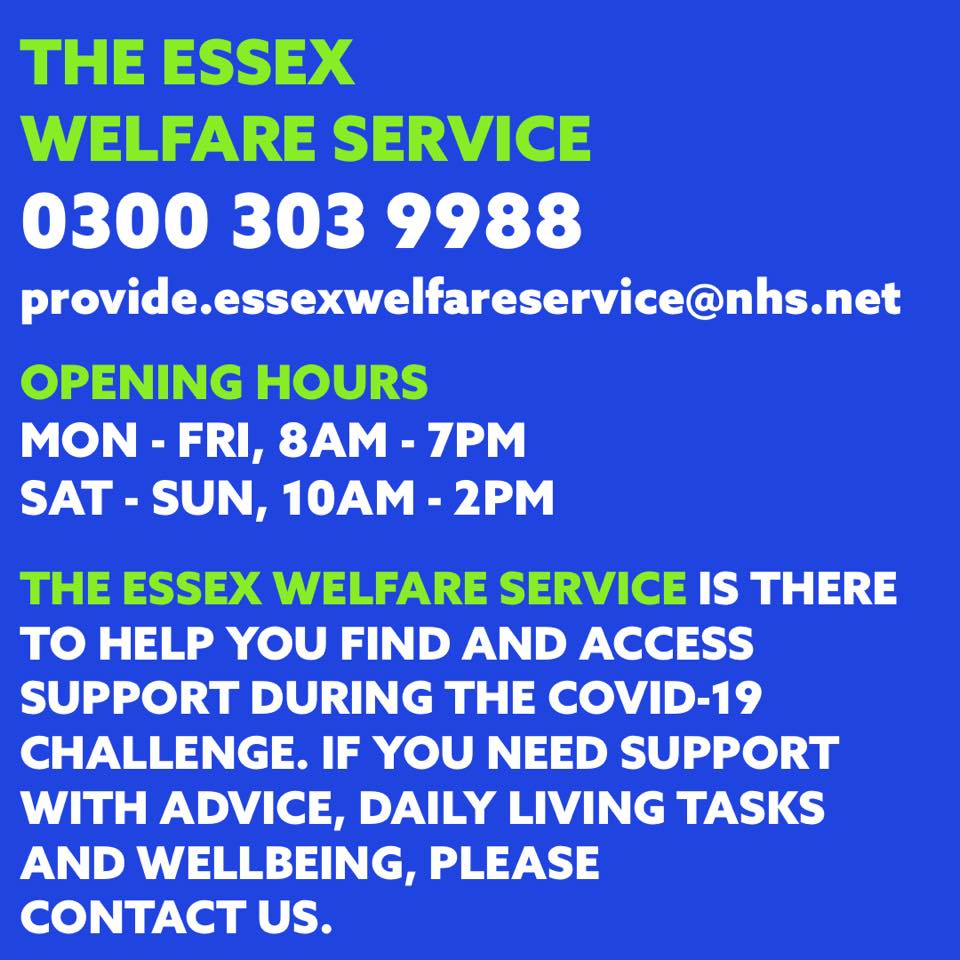 THE ESSEX WELFARE SERVICE
This BRAND NEW service is a single, convenient point of contact for anyone in the Essex area who is in urgent need of help during the Coronavirus outbreak. It is also the place to report anyone who you are concerned about. Click the advert above to email the Essex Welfare Service team directly
It is always advisable to reach out to friends and family or local volunteering projects first of all, but this service is now in place to make sure that everyone gets the assistance that they need during these challenging times.
---

Essex Coronavirus Action as it is a collaboration between Essex County Council, The Essex Public Health Team, and local Facebook group owners to provide three main services during the Covid-19 outbreak.
Registration is now OPEN for any residents or businesses who want to volunteer in the borough. By using one of the forms below:
INDIVIDUAL VOLUNTEERING
BUSINESSES VOLUNTEERING 
Join the Essex Coronaviras Action Facebook Group for more information about what help is going on in the borough and further afield in the County
---
Basildon Billericay and Wickford CVS 
Basildon Billericay and Wickford CVS (Council for Voluntary Service) was formed in 1979 as an independent registered charity that exists to promote, develop, support and represent a thriving, effective, voluntary and community sector in the borough.
Our work and mission
We are guided by values that promote equality of opportunity, participation, cooperation, partnership and democratic involvement. We promote local voluntary and community action in order to combat poverty and disadvantage, and to improve the quality of life for all of Basildon's communities and citizens.
We do this by providing a range of services to meet the needs of voluntary and community organisations, helping those that are starting up as well as organisations that are already established. We also support joint working between voluntary and community organisations, with business, and the statutory sector, and help to make sure the interests and concerns of the VCS are well represented.
You can find out more about the impact of our work in our annual reports.
Basildon Billericay and Wickford CVS is registered charity (1148943) and a company limited by guarantee (8028602). We are governed by trustees who are nominated and elected by our members.
We are a member of NAVCA (National Association for Voluntary and Community Action) and EACVS (Essex Association of Voluntary Services) as we believe it is important to share information, disseminate good practice and influence decision-making that affects our sector.
In summary we aim to make a real difference to the people and communities of Basildon. If you share this vision and want to help us on this journey you can join our growing membership.