Social Prescribing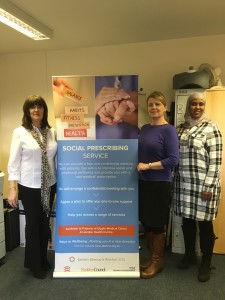 What is Social Prescribing?     Social prescribing is a way of linking people with non-medical sources of support provided within the community. This can include physical activity, education, social groups, creativity and advice.
Where is Social Prescribing? We are currently operating from three GP surgeries, The Dipple Medical Centre in Pitsea, the Laindon Health Centre in Basildon and the Tile House Surgery in Brentwood.  If you are registered at any of these practices and would like to find out some more information about this service please speak to your GP or any Health Professional when you next visit your surgery.
Meet the SP team……… (From L to R – Pauline Whale, Jean Broadbent, Farry Ismail)
You can search online for groups yourself by visiting essexconnects.org.uk
Benefits
Social prescribing can be beneficial to general health. It can be useful way of addressing social, emotional or practical needs. It can offer support to people or groups who are isolated, marginalised, vulnerable or experiencing mild or moderate mental health problems.
Benefits to the person
• Improve health and wellbeing • Support for health & lifestyle changes • Improve self-esteem and confidence • Improve social circle • Local service provision
Benefit to GP Practice
• Reduce frequent practice attendance • Easy referrals • Provide link between community, voluntary and health care professions • Encourages and support self-care • Increases access to range of practical services with the community For more information, please contact the Social Prescribing team on: Tel: 01268 294125 Email: spadmin@bbwcvs.org.uk Social Prescription Flyer