Trust and Grant Funding A-D
Trust and Grant Funding A-D
To find out more about each fund and deadlines click on each link. Please read carefully and make sure you meet all the requirements of the fund before submitting an application. These funds also regularly open and close so take note of those that are currently inaccessible but fit your criteria as they may be open in the future.
ASDA Foundation 
Continuous rolling programme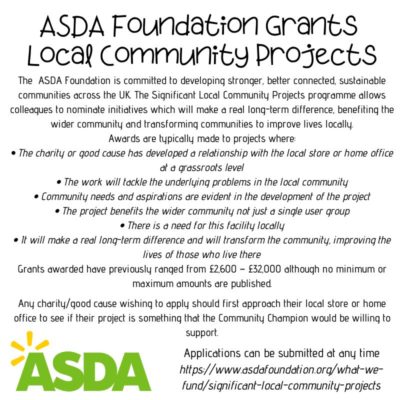 ---
Deadline: January, April, July and October
The Trust is particularly interested in charities that work with marginalised and excluded people in society, with a focus on:
migrants, refugees and asylum seekers
criminal justice and penal reform
human rights, particularly access to justice
---
Continuous Rolling Programme
The Micro Grant program offers awards between £50-£2,500. It is designed to be simple and light touch to enable residents and local community groups to easily access small amounts of funding to implement their ideas. We expect most activities/events will happen at a very local level.
Please note this fund allows video applications. You can create your video application with us at BBWCVS – contact Pippa for more information
---
Adint Charitable Trust
Continuous Rolling Programme
The Adint Charitable Trust makes grants of between £250 and £15,000 to registered charities for general charitable purposes, but has a preference for charities working in the fields of education, training, disability, sport and/or recreation. Applications should be in writing to the address below and include full details of the charity for which funding is requested.
Mr. Douglas Oram FIH MCIPS
The Adint Charitable Trust
Suite 512, 517
Finchley Road
London
NW3 7BN
adintct@btinternet.com
---
Deadline October
The Alec Dickson Trust supports young people in the UK who want to use volunteering or community service to do brilliant things in their communities. They  provide grants of up to £500 to individuals or groups of young people aged 30 or under, to help them put their ideas into action and run projects that benefit the lives of others – particularly the most marginalised and disadvantaged.
---
Continuous rolling programme
The foundation funds small registered charities, voluntary groups, and charitable organisations  that work with seven particular beneficiary groups
Asylum seekers and refugees

Gypsies and Travellers

Migrant communities

Offenders and ex-offenders

Older people

People experiencing mental health problems

People experiencing violence or abuse
Particularly interested in unusual, imaginative or pioneering projects which have perhaps not yet caught the public imagination.
Maximum grant is £15,000 with average grant size around £5,000-£6,000
---
The Andrew Lloyd Webber Foundation's principle objectives are to promote the arts, culture and heritage for the public benefit. Currently  unable to accept or consider unsolicited applications for funding and the application portal will be closed throughout 2020.
---
Decisions made Spring and Autumn
The trust gives grants to registered UK based charities who support people of all ages, who are socially disadvantaged and/or have mental and/or physical disabilities.
---
Antony Hornby Charitable Trust
Continuous rolling programme
The  Trust makes general charitable donations to organisations working in the following causes:
education, training and employment;
medical, health and sickness;
Arts and culture;
animals and environment; and
community development.
Grants are typically around £1,000, rarely over £5,000, however no maximum amount you can apply for is stipulated.
Mr Allan Holmes
Antony Hornby Charitable Trust
C/O Saffery Champness Llp
71 Queen Victoria Street
London
EC4V 4BE
---
Currently suspended due to COVID 19
Open access programme for arts, museums and libraries projects. The fund will support thousands of individual artists, community and cultural organisations.
---
Currently supporting the COVID 19 Crisis
Consult website for next closing date for applications
The Trust awards grants to registered charities that work in the UK with the aim to give grants to those in society who face the greatest challenges and whose opportunities are most limited.
Currently focusing on People aged 60 and over
Grants up to £1000
---
Backstage Trust
Continuous rolling programme
The  Trust's main focus is to support projects in the performing arts, mainly theatre, however the Trust is open to hear from arts organisations with projects in which the arts touch society in other ways. Trustees favour applications seeking to fund professional advice to provide support in areas where the organisation are unable to access expertise. For example, fundraising, HR, Law, setting up a capital project, and many other areas where paying for professional help would be costly.
There is no minimum or maximum amount you can apply for.
Helen Cave, Executive Administrator
North House
27 Great Peter Street
London
SW1P 3LN
info@backstagetrust.org.uk
---
Currently paused except for Emergency Essentials programme due to COVID 19
Grants to charities and other non-profit organisations that support and work with children and young people who are disadvantaged and face challenges in their lives.
Main Grants: Over £10,000 per year for up to 3 years
Small Grants:  for any amount up to and including £10,000 per year for up to 3 years.
Emergency Essentials programme: supports children and young people who are facing exceptionally difficult circumstances
---
Biskra Charitable Trust
Continuous rolling programme
The Trust has been set up for the public benefit of all persons with special emphasis on organisations that operate for the benefit of young people.  The charity focuses on providing opportunities for self-improvement, learning, skills training and welfare support.
Grants range from £500 (smaller organisations) to £50,000 (larger organisations)
Mr John Milford Buckland BDO LLP
Biskra Charitable Trust
c/o Arcadia House
Maritime Walk
Ocean Village
Southampton
SO14 3T
---
Boris Karloff Charitable Foundation
Continuous rolling programme
The Foundation issues grants to charitable organisations with emphasis on those connected with the performing arts and the promotion of cricket.
There is no maximum amount you can apply for.
Mr Andrew Studd
Russell Cooke Solicitors
2 Putney Hill
London
SW15 6AB
andrew.studd@russell-cooke.co.uk
---
Continuous rolling programme
The Foundation exists to improve quality of life for people with disabilities, learning difficulties or sensory impairment and their families.
---
R S Brownless Charitable Trust 
Continuous rolling programme.
The Trust aims to support charities throughout the UK undertaking general charitable purposes, with the Trustees' having a particular interest in supporting projects within:
Long-term and terminal illness
Disability
Disadvantage
Grants range between £100 – £2,000 and are usually one-off .
Mrs P M A Nicolai, Trustee
c/o The R S Brownless Charitable Trust
Hennerton Holt
Wargrave
Reading
RG10 8PD
---
Security products to the value of £150 to help increase security around community buildings, equipment or outdoor areas.
Available to any grassroots organisation that benefits the local community.  Applications only have to meet simple criteria: that they are a community organisation with limited access to funds with which to increase security . That means any charity, social enterprise, not for profit and community venture can apply so long as the security kits will be used locally.
---
The Calpe Trust
Continuous rolling programme
The Trust makes grants towards registered charities  benefiting people in need including refugees, homeless people, people who are socially disadvantaged, victims of war and victims of disasters.
Reginald Norton
Hideaway
Sandy Lane
Hatford
Faringdon
SN7 8JH
reggienorton@talktalk.net
---
Discussed at the quarterly board meetings  – no indication to exactly when these take place – contact funder directly.
---
 Trustees meet twice a year to distribute the income of the charity
UK grant-giving charity focused on organisations which promote physical and mental wellbeing, conserve our natural environment, and increase the accessibility of the arts.
---
Main grant programme: Social & Criminal Justice and Heritage & Conservation (for charities with an income of more than £350,000) and Overseas (for charities with an income between £150,000 and £5,000,000). Grant Committee meets on a quarterly basis,
Small grant programme: Social & Criminal Justice and Older People (for charities with an income of less than £350,000). Continuous rolling grant programme and applications are considered every two to three months
Will fund project costs and capital expenditure.
---
Continuous rolling programme
The Foundation supports cultural learning, the creation of learning spaces within arts and heritage organisations, leadership training, and enhancing Jewish life.
Please note that the assessment process is thorough and it can take many months for a successful grant to be awarded.
---
The foundation's primary aim is to improve the lives of people and communities, particularly those facing disadvantage, deprivation and/or discrimination.
---
Supporting COVID 19 – regular funding suspended
Their vision is to create a just world free from poverty by funding and investing in amazing organisations across the UK and around the world.
---
Dischma Charitable Trust
Continuous rolling programme
Grant for charitable organisations in the UK carrying out welfare, education, arts and conservation activities.
Previous grants have been for between £500 and £5,000.
Linda Cousins
Dischma Charitable Trust
Rathbone Trust Company Limited
1 Curzon Street
London
W1J 5FB
linda.cousins@rathbones.com
---
Applications reviewed March, September and November
The DWF Foundation supports registered charities with an impact in one or more of the following areas:
Homelessness
Health & Wellbeing
Employability
Education
---