Current Funding Highlights
Basildon Community Lottery – Is Your Organisation Signed Up?

Learn more here:
---
ASDA Foundation Grants for Local Community Projects

---
Nationwide Community Grants Programme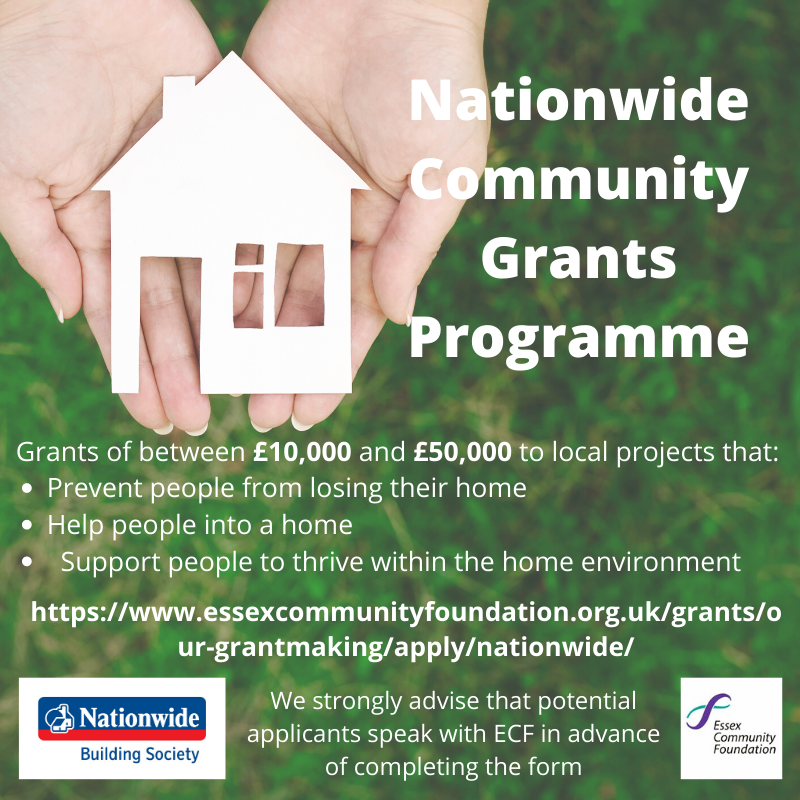 ---
Comic Relief Community Fund – Rolling Programme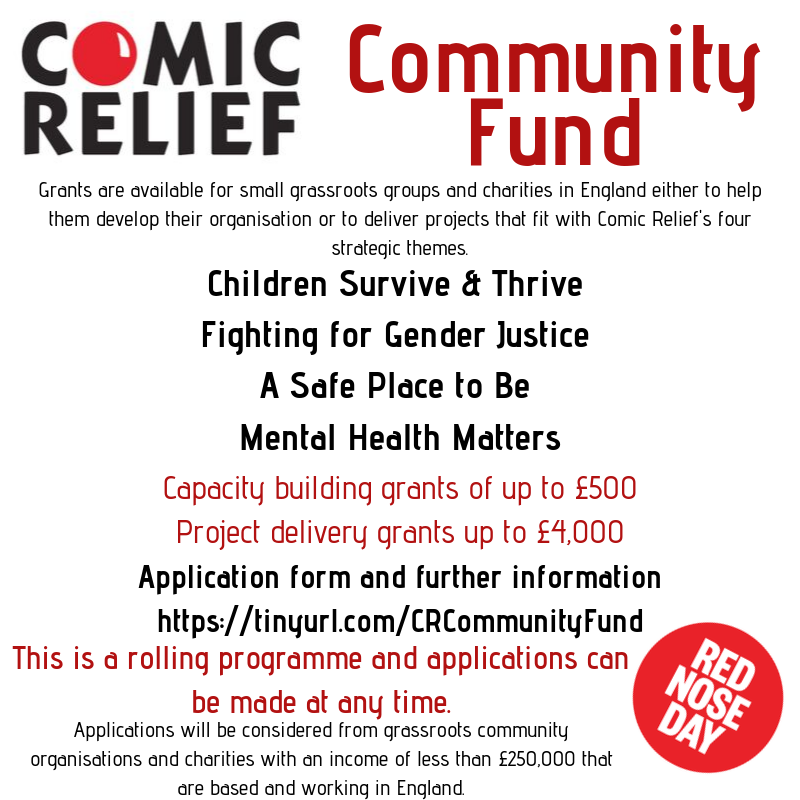 ---
Garfield Weston Foundation – Rolling Programme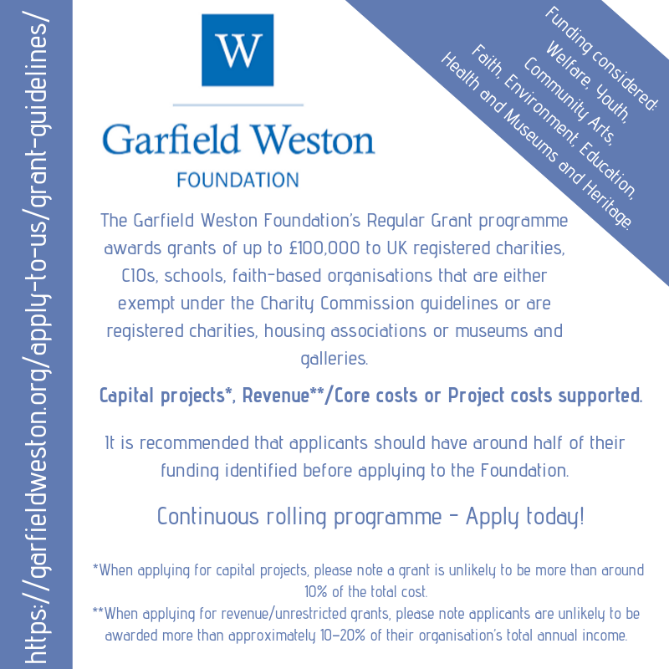 ---
 Emergency Essentials Programme – BBC Children in Need
Family Fund Business Services are working in collaboration with BBC Children in Need to deliver the Emergency Essentials programme supporting children and young people living with severe poverty as well as additional pressures such as domestic violence, disability or poor health in the family.
The programme can deliver or fund critical items such as:
Gas or electric cookers
Essential household items
Furniture and kitchen equipment
Children's beds and bedding
Washing machines
Fridges and freezers
Baby equipment
Clothing in exceptional or emergency situations.
Applications must be completed by a registered referrer who is part of an organisation that is supporting the family or young person and capable of assessing their needs.
https://www.familyfundservices.co.uk/emergency-essentials/
---
Family Fund – The Family Fund Trust for families with severely disabled children
The Family Fund helps families across the UK who are raising a disabled or seriously ill child or young person aged 17 or under. You can apply to Family Fund subject to a number of criteria which include that you are the parent or carer of a disabled or seriously ill child or young person aged 17 or under and that you have evidence of entitlement to one of the following: Universal Credit, Child Tax Credit, Working Tax Credit, Income-based Jobseeker's Allowance, Income Support, Incapacity Benefit, Employment Support Allowance, Housing Benefit and Pension Credit.
See their website for more details. https://www.familyfund.org.uk/
---
Community Business Crowdmatch – Power to Change
Power to Change has teamed up with Crowdfunder UK to deliver this programme to local communities to raise much needed money to bring new community businesses to life. The fund will also support existing community business to grow, by launching new business ideas that create positive changes for local communities in England. Crowdmatch helps to raise funding to cover key costs, build a network of supporters and provides match funding
Groups accepted onto the programme will receive help to raise funding to cover key costs, help build their network of supporters and receive match funding, up to £6000.
https://www.powertochange.org.uk/get-support/programmes/community-business-crowdmatch/
---
Website Grants – Transform Foundation
Transform Foundation provide funding of up to £18,000 to cover the strategy, design, build, content strategy, training, QA and launch of a new mobile optimised website, with sophisticated marketing, fundraising, appeals, social media, e-commerce and website management tools. Applications are accepted on a rolling basis.
The grant covers 100% of the website design and build costs with the Foundation's current grant partner. Applicant organisations will need to cover on-going costs for a minimum of a 12 month commitment
They are specifically targeting small and midsize charities.
https://www.transformfoundation.org.uk/website-grants
---
Grow the Game – Closing Date 31st May
Now in its tenth year, the scheme, which is funded by the FA and Sport England and delivered by the Football Foundation, has committed £1.5 million to boost grassroots football in England in 2020, and aims to support the growth of new Female and Disability teams by offering grants of £1,500 for the creation of new affiliated teams.
The application window will be open from 26th February 2020 to 31st May 2020 and applications will be assessed on a first come first serve basis. Apply here:
---
Tampon Tax Fund – Closing Date 31st May
Organisations supporting women and girls can now apply for a share of £15 million from the Tampon Tax Fund.
Grants are available for projects directly benefitting disadvantaged women and girls, tackling violence, and supporting their mental health and wellbeing. Apply here:
---
Magic Little Grants 2020 – Open Until 31st Oct 2020
The Magic Little Grants 2020 programme will be launching on Tuesday 10th March 2020.
Delivered in partnership with Postcode Community Trust, funded by players of People's Postcode Lottery, there are over 900 grants available through the fund.
The fund will be awarding £500 grants to community projects across Great Britain. Successful projects will support and inspire people to participate in sports or exercise with the primary aim of improving the physical health of participants. Apply here:
---
Active Essex – Micro Grant
The Micro Grant programme offers awards between £50-£2,500. It is designed to be simple and light touch to enable residents and local community groups to easily access small amounts of funding to implement their ideas. We expect most activities/events will happen at a very local level. Apply here:
Please note this fund allows video applications. You can create your video application with us at BBWCVS – contact Pippa for more information
---
The Yapp Charitable Trust
The Trust continues to support the smallest of charities (spending less than £40k per year) and only fund running costs (including rent, utilities and salaries) with grants of up to £9,000 over 3 years. Apply here:
---
The Walter Farthington Trust
The Walter Farthing Trust is a long-standing independent foundation providing funds and grants to charitable projects and non-for-profit organisations in Essex. Apply here:
---

This Girl Can
This fund aims to support women aged 16+ to get active by offering National Lottery grants to local projects that will contribute to overcoming the barriers some women face in getting active: from a lack of opportunities offered in their local area, to cost and availability of childcare. Apply here:
---
Sport England – Community Asset Fund
Grants are available for community organisations, sports clubs, statutory bodies and educational establishments to enhance local community spaces which encourage people to play sport and get active. Apply here:
---
NFU Mutual
Donations are limited to a maximum of £1,000. Ideally we like to fund something specific so we can measure the difference our donation has made – whether it's purchasing an item of equipment or furniture, or something else that will help people over a long period of time.
We are most likely to approve funding request which meet one or more of our four areas of interest:
Connecting the community; reducing social isolation, providing opportunities, and encouraging resilience
Providing care and support to vulnerable members of our community
Relieving poverty; improving the health and wellbeing of our communities
Advancing education and experiences for young people
Apply here:
---
Adint Charitable Trust
Grants are available to UK registered charities for general charitable work.
Max. Value: £ 10,000
Application deadline: Various
Apply here:
---
Allen Lane Foundation
Grants are available to fund charities and organisations that work with any of the seven particular beneficiary groups:
Asylum seekers and refugees
Gypsies and Travellers
Migrant communities
Offenders and ex-offenders
Older people
People experiencing mental health problems
People experiencing violence or abuse
Max. Value: £ 15,000
Apply here:
---
Clore Duffield Foundation – Main Grants Programme
Grants are available to registered charities in support of the cultural sector in the UK. Support is also occasionally available to the health and social care sectors.
Status:Open to applications
Max. Value: Discretionary
Application deadline: N/A
Apply here: