COVID-19 Resources
---
This page contains useful links we have collected to help people during COVID-19
---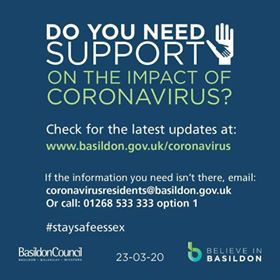 ---


Essex Coronavirus Action as it is a collaboration between Essex County Council, The Essex Public Health Team, and local Facebook group owners to provide three main services during the Covid-19 outbreak.
Registration is now OPEN for any residents or businesses who want to volunteer in the borough. By using one of the forms below:
INDIVIDUAL VOLUNTEERING
BUSINESSES VOLUNTEERING 
Join the Essex Coronavirus Action Facebook Group for more information about what help is going on in the borough and further afield in the County.
---
COVID-19 INFORMATION
HELP REOPENING
Whilst not exhaustive, the following websites may be of assistance in carrying out risk assessments and making arrangements for returning to work and re-opening facilities.
• https://www.gov.uk/government/publications/covid-19-guidance-for-the-safe-use-of-multi-purpose-communityfacilities
• https://www.gov.uk/government/publications/covid-19-guidance-for-managing-playgrounds-and-outdoor-gyms
• https://www.gov.uk/guidance/coronavirus-covid-19-guidance-for-the-charity-sector
GENERAL RESOURCES
MENTAL HEALTH
FINANCES
HELP STAYING FIT
HELP WITH LEARNING
ENTERTAINMENT