Current Funding Opportunities
This page lists current funding opportunities, please let us know if you are aware of others:  admin@bbwcvs.org.uk
Basildon Council Grants to Organisations – Closing Date 24th January

Active Essex – Walking & Cycling Funding Available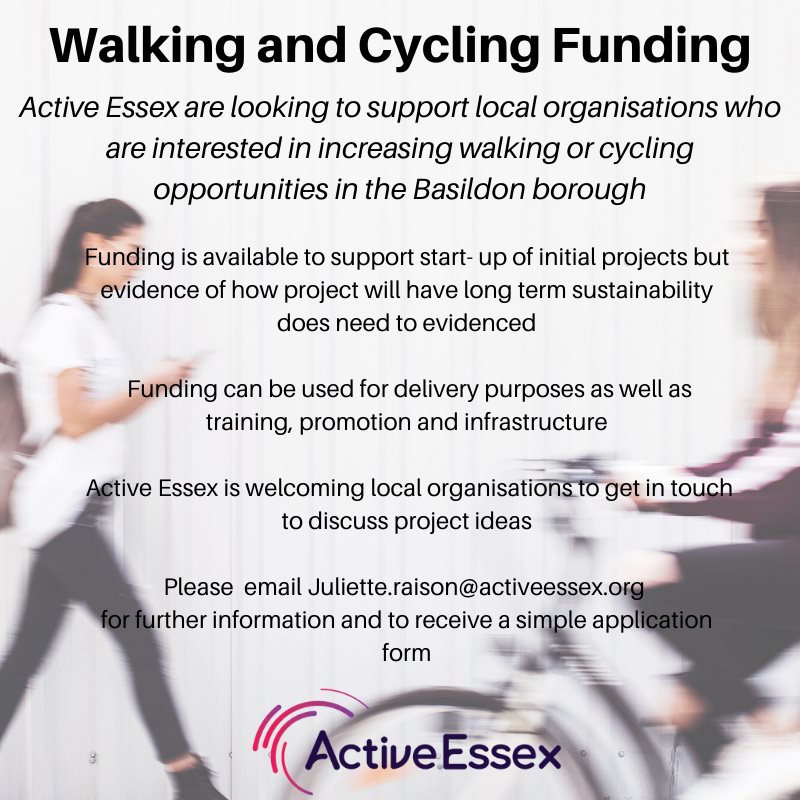 Essex County Council's Essex Fund – Closing Date 16th January
 https://www.essexcommunityfoundation.org.uk/grants/our-grantmaking/apply/the-essex-fund/

ASDA Foundation Grants for Local Community Projects

Basildon Council Grants to Community & Voluntary Groups – Closing Date 24th January

Greggs' Local Community Project Fund – Closing Date 23rd February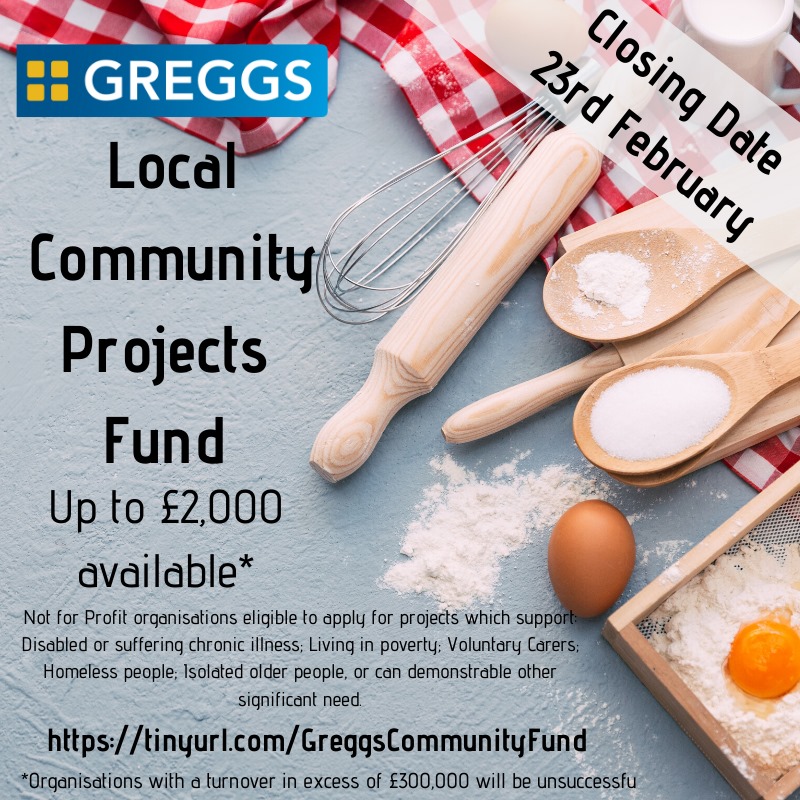 Nationwide Community Grants Programme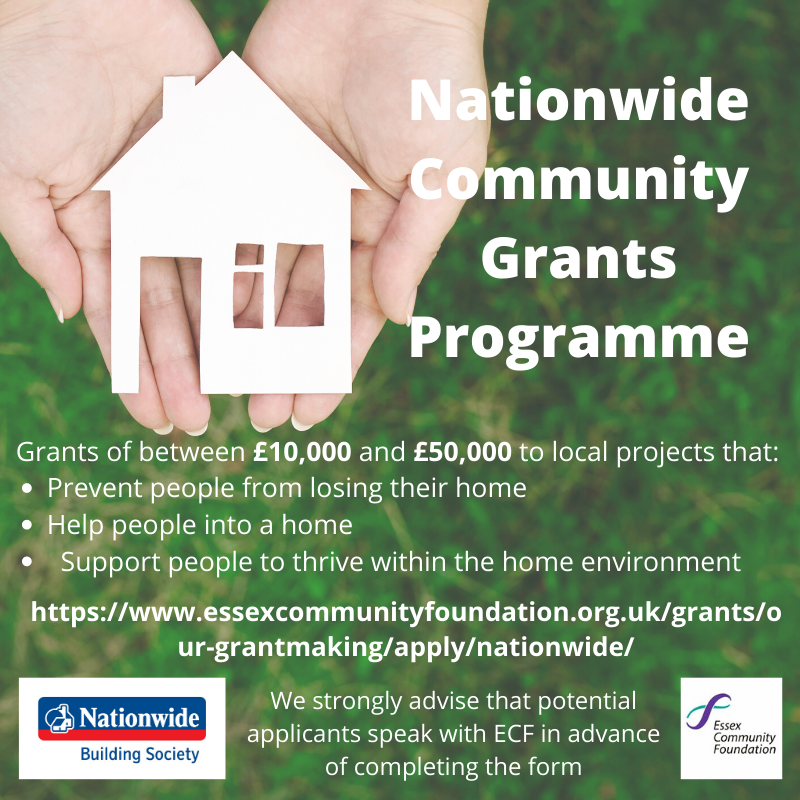 Comic Relief Community Fund – Rolling Programme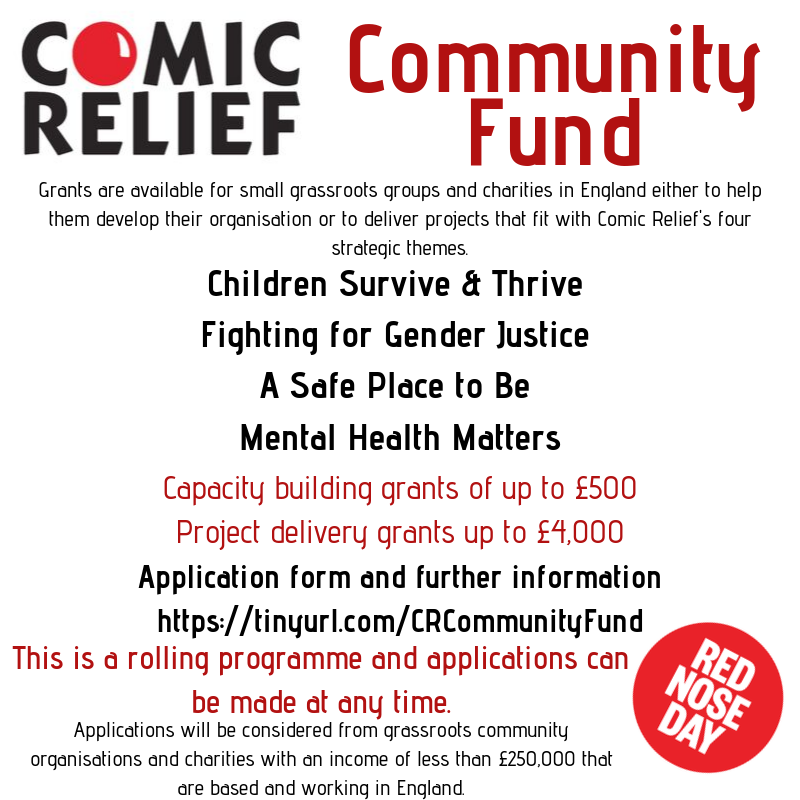 Garfield Weston Foundation – Rolling Programme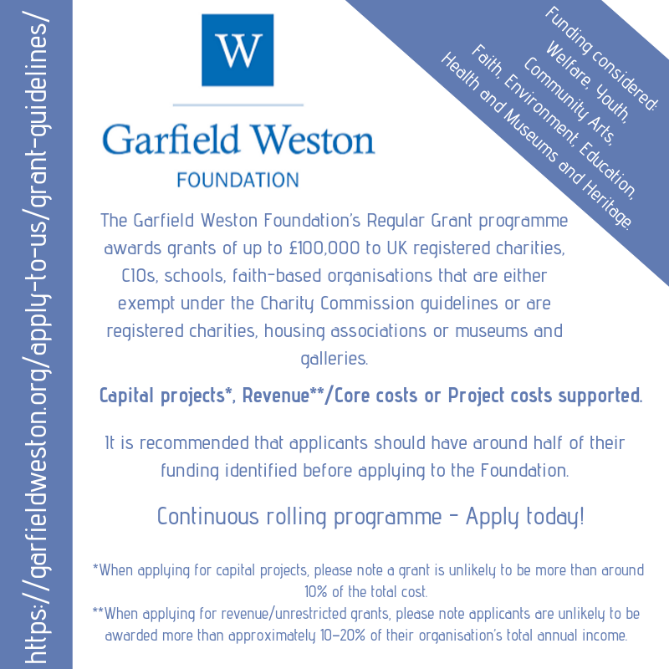 Emergency Essentials Programme – BBC Children in Need
Family Fund Business Services are working in collaboration with BBC Children in Need to deliver the Emergency Essentials programme supporting children and young people living with severe poverty as well as additional pressures such as domestic violence, disability or poor health in the family.
The programme can deliver or fund critical items such as:
Gas or electric cookers
Essential household items
Furniture and kitchen equipment
Children's beds and bedding
Washing machines
Fridges and freezers
Baby equipment
Clothing in exceptional or emergency situations.
Applications must be completed by a registered referrer who is part of an organisation that is supporting the family or young person and capable of assessing their needs.
https://www.familyfundservices.co.uk/emergency-essentials/
Family Fund – The Family Fund Trust for families with severely disabled children
The Family Fund helps families across the UK who are raising a disabled or seriously ill child or young person aged 17 or under. You can apply to Family Fund subject to a number of criteria which include that you are the parent or carer of a disabled or seriously ill child or young person aged 17 or under and that you have evidence of entitlement to one of the following: Universal Credit, Child Tax Credit, Working Tax Credit, Income-based Jobseeker's Allowance, Income Support, Incapacity Benefit, Employment Support Allowance, Housing Benefit and Pension Credit.
See their website for more details. https://www.familyfund.org.uk/
 Community Business Crowdmatch – Power to Change
Power to Change has teamed up with Crowdfunder UK to deliver this programme to local communities to raise much needed money to bring new community businesses to life. The fund will also support existing community business to grow, by launching new business ideas that create positive changes for local communities in England. Crowdmatch helps to raise funding to cover key costs, build a network of supporters and provides match funding
Groups accepted onto the programme will receive help to raise funding to cover key costs, help build their network of supporters and receive match funding, up to £6000.
https://www.powertochange.org.uk/get-support/programmes/community-business-crowdmatch/
Website Grants – Transform Foundation
Transform Foundation provide funding of up to £18,000 to cover the strategy, design, build, content strategy, training, QA and launch of a new mobile optimised website, with sophisticated marketing, fundraising, appeals, social media, e-commerce and website management tools. Applications are accepted on a rolling basis.
The grant covers 100% of the website design and build costs with the Foundation's current grant partner. Applicant organisations will need to cover on-going costs for a minimum of a 12 month commitment
They are specifically targeting small and midsize charities.
https://www.transformfoundation.org.uk/website-grants