ASPIRE – Growing Leadership in the Voluntary and Community Sector in Essex
A new 12 month leadership opportunity is commencing November 2017 offering a personal programme for fifteen senior professionals working in the third sector.
The programme includes a menu of opportunities including personal diagnostics and coaching, group learning, a launch workshop and action learning sets, bespoke development aligned to your personal goals and leadership vision placements/research trips in the social and public sector. It will be supported by a learning network and events to share your work.
The programme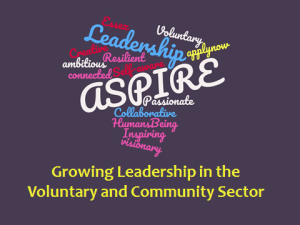 will be delivered for the Essex Partnership by Humans Being, a global Organisational Psychology Consultancy helping clients attract, hire, look after and grow their people. It has been commissioned in the recognition that growing the skills and capabilities of a cohort of leaders for the voluntary and community sector, is a long term investment that could reap many benefits and bring on a new generation of leaders.
The programme is aimed at senior professionals that are currently employed within the Essex third sector, working for a voluntary or community organisation, a social enterprise or charity. It is most relevant for aspiring and developing leaders that have the desire to forge a future leadership career in the sector and that may be on the tipping point towards this ambition.
For an applicant information sheet, an online candidate application form or for the online nominator form or for any queries about the application process or to request an application form in an alternative format, please e-mail aspire@humansbeing.co.uk
Applications must be received by Midday on Monday 16th October 2017
Good luck!